Since last time I got all hung up on Afleet Alex, today I'm giving time to his parents and grandparents: Maggy Hawk, Northern Afleet, Qualique, Hawkster, Nuryette, and Afleet.
Now she has a vineyard named after her. Lucky.
Afleet Alex's dam is
Maggy Hawk
. She started in four races and won one, earning $15,080. Maggy Hawk was born in Kentucky in 1994. Her win was a one-mile race on the dirt at Keeneland. I don't know much about it other than she rallied at the end and dueled for the win. She ran in two allowance races after that before she retired to have some babies. She had another colt two years before Afleet Alex with Northern Afleet, named Unforgettable Max. After Alex, he was her most successful offspring on the track. She is clearly a quality broodmare, having also bred to stallions like Curlin, Quiet American, Storm Cat, Awesome Again, Tour d'Or, and Mister Jolie. She is no scrub.
Neither is Alex's dad,
Northern Afleet
. See a family resemblance?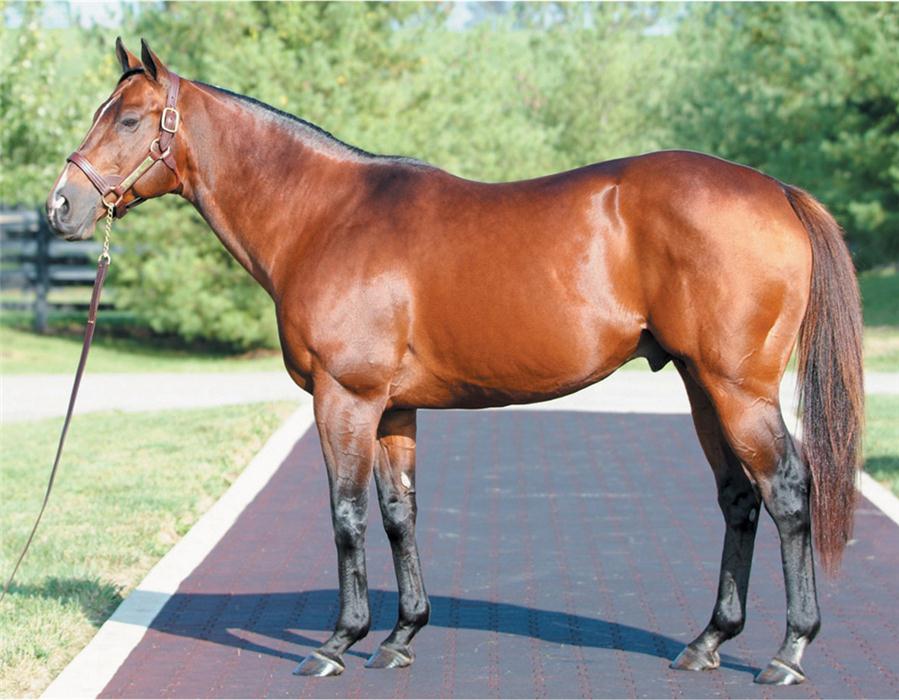 Northern Afleet, born in 1993, was a multiple graded stakes winner and ran in the Breeder's Cup sprint in 1997. He won 5 of 21 starts for $656,761. Many of his offspring have
done very well indeed
, though none earned as much as Afleet Alex. He's had a couple babies do well in mid-level dressage, and is the dam sire for a few in successful sport horse careers. Afleet Alex has a good mind, and it seems both his parents do, too.
Maggy Hawk's dam is
Qualique
, born the same year as me: 1981. She was a graded stakes winner, bringing it home in her biggest race, the Grade 1 Demoiselle Stakes at Aqueduct in 1983. She earned $91,818 in her career. Qualique went on to be a good broodmare with 8 foals. Maggy Hawk was her winningest filly. Her best baby, in terms of earnings, was Santa Rosa Island by Valiant Nature.
Hawkster winning the Oak Tree Invitational Stakes
Maggy Hawk's sire, Hawkster, was a big-deal Kentucky-born colt (1986). Another multiple graded stakes winner, he brought in $1,510,942 for his happy humans. Hawkster ran fifth in each Triple Crown race, but won a bunch of big races, including the 1989 Oak Tree Invitational Stakes. You can see
video of that here
(and yet I can't find a picture of the poor guy, so the photo above is a screen shot from the YouTube clip). Hawkster set a world record that day for the fastest 1 1/2 mile race on turf (2:22 4/5)--a record he still holds. He was a contender for the Eclipse Award on Turf that year, but it went instead to Steinlen. In addition to his standing world record on turf, he is best known for being Afleet Alex's damsire. He sired many racehorses, many of whom did just fine, but Alex is his most famous relative.
Northern Afleet's dam is
Nuryette
, an unraced 1986 filly from Kentucky. Northern Afleet was her second highest earner after Tap To Music by Pleasant Tap, a multiple graded stakes winner. She was bred to famous stallions like AP Indy, Mr. Prospector, Dixieland Band, Capote, and Colonial Affair. She must have been a nice girl.
Afleet shows us where the stocky body comes from in this bloodline.
Northern Afleet's sire,
Afleet
, was a 1984 colt bred in Kentucky. He had a phenomenal race record: a multiple graded stakes winner, ran in the Breeder's Cup, and won two Sovereign Awards in 1987, one for 3 Year Old Colt of the Year and another for Horse of the Year. He won 7 of his 15 starts, earning nearly $1 million on the track, and went on to sire some very nice babies. His biggest winner in the US was A Fleets Dancer out of My Dream Come True, but many of his sons and daughters really raked it in in Japan. At the end of the day, Afleet was a beautiful horse, an excellent athlete, and a guy whose name is one I'm particularly fond of.
Lots of nice horses in Lex's lines! Stay tuned for her great-great grandparents, including Arts and Letters and Mr. Prospector.