As I said in
my first post on this topic
, I'm interested in history, in thoroughbreds, and in Lex. Last time, I began digging into Lex's dam's side. Today I start on her sire's side, and I'm already deviating from the plan. There is enough to say about him that he gets his own post.
Afleet Alex
really needs no introduction 'round these parts, but let's introduce him anyway because it's fun.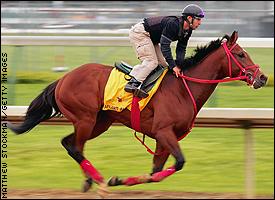 Like looking at a picture of Lex.
Afleet Alex is the 2002 offspring of Maggy Hawk and Afleet. He famously got the name Afleet Alex because he was named after
a little girl who had cancer
and struggled hard to beat the odds, long outliving her prognosis. The little girl opened a lemonade stand to raise money for kids with cancer, and before she died, 8 year old Alex Scott raised over half a million dollars through
Alex's Lemonade Stand
. After she died, her lemonade stand foundation lived on. The day she died, in Philadelphia, Afleet Alex won his first major race, at Saratoga.
Afleet Alex did not have an easy start, either. He was not expected to survive at birth, because his dam could not produce milk so he could not get colostrum. His breeder's 9 year old daughter bottle fed him for two weeks until they could get him a nurse mare. He was a bargain-basement baby when a group from Philadelphia decided to get into racing, formed a syndicate, and purchased him. John Silvertrand, his breeder, was diagnosed with colon cancer and given two months to live just as Afleet Alex's career was starting to go somewhere. He elected to discontinue chemotherapy in order to appreciate Alex's career. He died in 2007 after outliving his prognosis by several years.
Between Silvertrand's cancer diagnosis and Alex's ties to Alex Scott, the syndicate who owned him decided to give a portion of his winnings to Alex's Lemonade Stand. They used every opportunity to harness Alex's star power for the lemonade stand, and raised tens of thousands of dollars during the Triple Crown. The organization
has raised over $30 million to date
.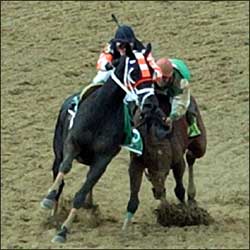 The Preakness wasn't much better in terms of the number of entries. Afleet Alex hung near the back of the pack, and just as he was making his move, Scrappy T blew the turn and knocked Alex to his knees. This is where Alex's grit kicked in. I interpret what happened next as Alex being really, really pissed off. He not only recovered (and his terrific jockey, Jeremy Rose, hung in there like the professional he is), but he won going away. You can
watch the race here
. Be ready to hold your breath the whole time, and watch the replay. It's really something.
But it was the Belmont that really sealed the deal on Afleet Alex's greatness. As the Instapunk writer said, he
"put the hammer down.
" Again, he stalked the back of the back. Again, when the moment was right, Jeremy Rose gave him the signal and they shot past the rest of the pack, including Derby winner Giacamo, like they were standing still. He won going away again. You really must
watch this race
. It's rare to see anything that dramatic, even in the drama-infused sport of horse racing. He ran the fastest last quarter mile since Arts and Letters in 1969. Keep an eye out for Arts and Letters--he's going to come up on this blog again very soon.
Afleet Alex's trainer, Tim Richey, grew up around eventing. Chris gave lessons to his sisters who rode hunter/jumpers. Chris told me that Richey always got looked at funny from other trainers because he worked the horse differently from what was typical for racing and more like what the eventers did. The horse came out of his stall to work at least twice a day, including lunging. Word on the street is that he's always had a good mind, and passed that good mind along to his offspring. Richey announced Alex's retirement in 2005. He'd recovered from a hairline fracture of his left front cannon bone. The prognosis was good, but after he returned to work in preparation for the Breeder's Cup, he went off again. As it turns out, he had some dying tissue in his bone that created a brittle patch. While no one can be sure, the vets suspect he sustained this injury in his Preakness fall. In 2006, he got the Eclipse Award for Champion 3 Year Old Gelding or Colt, and lost the Eclipse Horse of the Year award narrowly to Saint Liam.
I, for one, think Alex was robbed. In terms of money (the syndicate who owns him is called Cash is King, after all), he earned $2,765,800, won 8 of his 12 starts, and was ranked 3rd by earnings in 2005.
Afleet Alex is a successful racing stallion now. Lex was in his first crop of foals and was a total failure on the track, but he is a
proven Grade 1 sire
. This year, six of his three year olds were Triple Crown nominees. I've also heard through the grapevine that he has a son who is knocking 'em dead in the hunter ring at HITS, but I haven't seen him myself. I believe it, though.
Of course, my favorite thing about Afleet Alex is how much he looks like Lex. Behold:
I don't know if Lex is going to be as fabulously talented as both her parents were, but she's got the right ingredients. Next time, I'll talk more about Afleet Alex's parents and grandparents. There's a lot to say.